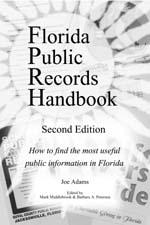 Thanks for dropping by!
I really dig finding answers.
Bet you do, too.
Important life choices hinge on what we know and believe. The better informed we are – about our government, health care options, local schools or whatever – the better decisions we can make for ourselves and our families.
Florida offers some excellent public information resources that can help. I spent more than a decade researching them, from state agencies to the courthouse to online. My findings turned into The Florida Public Records Handbook, a unique guide to useful records all kinds in the Sunshine State. This site offers more details on the second edition of the handbook and how to order it from the First Amendment Foundation in Tallahassee. It also has updates on developments regarding records in the handbook.
This site also underscores two other passions: teaching and freedom of information. The two combine for Joe's Hit Records, a log of handpicked news stories from throughout Florida showcasing the value of public information and public records research. The Florida Sunshine Review Page offers links to news stories about freedom of information issues – particularly open records and meetings – throughout Florida. Both pages include monthly archives.
Aside from those features, expect a surprise or two as well. If you want to do your own research but maybe need a little help with the "how to," this site could become a cozy place for you.
For now, though, this is a work in progress. Stay tuned!
-- Joe Adams