• Home
• Welcome
• About Joe
• Joe's Hit Records
• Florida FOI news
• Seminars
• Handbook Orders
• Handbook Updates
• For Professors
• 100 Answers
• Resources
• Tips


Coming Soon!
I Dig Answers is a work in progress. Best tip for now: Check out the rest of the site for interesting stuff!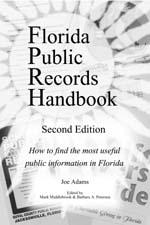 Save money,
save time ...
find answers!



With the second edition of The Florida Public Records Handbook, the ultimate guide to finding public information in the Sunshine State.

Research it yourself at the courthouse, city hall, state agencies and online! Discover the records to help you find people, research property, check out doctors and nursing homes, monitor government, do your own background checks, scope the competition and much more!