• Home
• Welcome
• About Joe
• Joe's Hit Records
• Florida FOI news
• Seminars
• Handbook Orders
• Handbook Updates
• For Professors
• 100 Answers
• Resources
• Tips
• Secrets of the Scoop subscriber log in



Are you ready to learn
the Secrets of the Scoop?
The Secrets are ready for you.
"Secrets of the Scoop: Using public records to uncover news and change the world" is my new courseware for Florida journalism and research methods courses.
It features many of the exclusive concepts that I've shared with more than 1,000 journalists over the last decade as part of my award-winning workshops.
With the Secrets and the help of their professors, students will learn how to elevate their skills for success and inspire positive action and change through the power of public records reporting.
The courseware integrates the iDigAnswers.com Web site and The Florida Public Records Handbook to provide a teaching and learning experience offered no place else. As a teaching reference, professors receive a 26-page "Teaching the Secrets" guide, a chapter-by-chapter roadmap on how to teach the concepts and use the specially prepared class exercises, links and story examples. Plus, I'm available for personal consultation at no cost on how to present the material as well.
Some of the highlights:

More than 130 story and public records examples that illustrate teaching points and what records have to offer.


Class exercises using records.


Videos from me that can be used as icebreakers with extra credit potential.


Actual records examples and stories generated by the records.


Some of the handouts I give to professional journalists in my workshops.


References to records profiles in The Florida Public Records Handbook.


Dozens of class discussion questions based on stories and records examples.


Three chapters on the Florida Public Records Law, how to navigate it for success and how to deal with denials.


Records examples and profiles of about 20 records every student should know before they start a new job.


Chapters on the two key offices that all Florida reporters should know well.


An exclusive beat coverage strategy using public records reporting.


Tips on how to use records to tell stories and ask the right questions.


And much more!

By the way, I must note that I am not claiming to be The Scoop! The Scoop, as I'm defining it, is a reporting state of being. I'm a student and admirer of The Scoop.

E-mail me at joe@idiganswers.com with questions or for more information about how Secrets of the Scoop can energize your students about the joy, power and benefits of public records reporting.

Best always,

Joe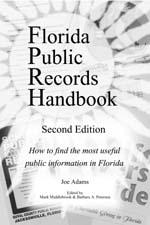 Save money,
save time ...
find answers!



With the new second edition of The Florida Public Records Handbook, the ultimate guide to finding public information in the Sunshine State.

Research it yourself at the courthouse, city hall, state agencies and online! Discover the records to help you find people, research property, check out doctors and nursing homes, monitor government, do your own background checks, scope the competition and much more!