• Home
• Welcome
• About Joe
• Joe's Hit Records
• Florida FOI news
• Seminars
• Handbook Orders
• Handbook Updates
• For Professors
• 100 Answers
• Resources
• Tips



Freedom of information resources
Various organizations in Florida and elsewhere offer resources and information regarding access to open government meetings and records. This list doesn't include all of them yet, but it will get you started. At the end of this page you will find sample public records request forms that you can use to tailor your own requests for state and local governments in Florida and federal agencies.
Brechner Center for Freedom of Information


The center at the University of Florida is a valuable resource on several fronts. It publishes the monthly Brechner Report, an informative roundup of news and notes about media legal news and other FOI developments in Florida. It also provides a helpful 23-page booklet in PDF form titled "Florida Government in the Sunshine: A Citizen's Guide," which explains open meetings and records laws. The site includes a database with details on known cases in which public officials either pleaded no contest or guilty to or were convicted of criminal or civil charges under the state's open records and meetings laws. Another database provides information on cases in which plaintiffs obtained litigation expenses in legal actions filed under state open meetings or records laws. The site also includes the outstanding Citizens Access Project, which compares public records and meetings laws from state to state, provides links to each state's statutes and constitutions, and lists specialists for access laws from each state.
First Amendment Foundation


This not for profit foundation in Tallahassee offers several important resources for anyone interested in public information and open records in Florida. Among them are foundation President Barbara Petersen's update reports on records and meetings exemptions under consideration and passed by the state Legislature. These are important for anyone who wants to stay on top of what Florida lawmakers are considering on these subjects. The site also includes notice of Barbara's highly recommended fall workshops on open meetings and records for public, press and government officials. The foundation publishes The Florida Public Records Handbook and its sister, The Government-in-the-Sunshine Manual, which is produced by the Florida Attorney General's Office.
Florida Attorney General's Office


The Florida Attorney General's Office produces the Government-in-the-Sunshine Manual, a must-have reference guide to open government meetings and records in Florida. The manual is written by the office's Pat Gleason and is available online through the attorney general Web site. The First Amendment Foundation in Tallahassee publishes the the manual in book form and offers a bargain rate for a combo order of the Sunshine Manual and The Florida Public Records Handbook. The office coordinates a public records mediation program that seeks to resolve disputes between public agencies and records requestors. The Attorney General's Office Web site also includes past advisory legal opinions about open meeting and government issues. Another online resource from the office is the Public Records Law Guide for Law Enforcement Agencies.
The Sunshine Coalition


The Sunshine Coalition hosts a list serv that's an important resource for those interested in open government in Florida. The coalition seeks to help the public understand the important role public records and open meetings play in their daily lives. It originated in 2002 from the convergence of various FOI-related and interested groups, including the First Amendment Foundation, the Brechner Center for Freedom of Information, the Florida Society of Newspaper Editors, the Florida Press Association, the Florida Press Club, the National Association of Black Journalists and the National Association of Hispanic Journalists. The site includes stories and editorials leading to the successful passage of Amendment Four in 2002. The amendment requires a two-thirds majority before the Legislature can pass any new exemptions to the state's open meetings and records laws. It also includes talking points about the value of open meetings and records.
Florida Society of Newspaper Editors


Looking for more talking points on FOI or reasons it matters? See FOI-related editorials, stories and cartoons from newspapers throughout Florida as part of Sunshine Sunday, a one-day statewide blitz each March to stress the importance of supporting open government. The effort coincides with the start-up of the Florida Legislature, which proposes measures each year to curtail access to open meetings and open records. Thirty-six newspapers participated in 2003.
The Florida Bar


The Florida Bar produces the The Reporter's Handbook, an online resource tailored to journalists but insightful for others interested in open records and meetings laws. Topics covered include defamation and privacy, access to juvenile records, cameras in the courtroom and other areas of the law. The information is updated periodically.
Florida Press Club


The club Web site provides news from time to time about FOI developments in Florida and related seminars.
National Freedom of Information Coalition


The coalition posts stories about FOI issues from throughout the United States and offers an extensive list of FOI Web links by state. It offers an excellent e-newsletter called "The FOI Advocate," with regular news links and developments on the FOI front from across the country and the world. The coalition site also explains how to join a national FOI list serv with discussion, news and notes about pending state and federal FOI legislation, privacy vs. access issues and much more.
Freedom Forum


The Freedom Forum's First Amendment Center works to preserve and protect First Amendment freedoms through information and education. It provides news and analysis about on-going developments from the White House, Congress and elsewhere that affect the First Amendment. Among its online resources provided include reports on the state of the First Amendment, an experts list, lesson plans, and an interesting FOI "quote of the day." The site provides relevant and insightful materials about free speech, press, assembly, petition and religious liberty. The center has offices in Nashville, Tenn., and Arlington, Va.
Committee for Freedom of the Press


The non-profit committee has been offering free legal help to journalists since 1970. But you don't have to be a journalist to benefit from this site. It includes updated news on FOI-related topics, a blog on homeland security developments and various publications, including an on-line guide to the federal freedom of information act with tips on how to use it.
The Society of Professional Journalists


The Society of Professional Journalists is the world's largest journalism organization. The SPJ Web site includes a running press notes list on FOI-related news plus an excellent FOI resource project called Open Doors, which is about how to access government records. The project explains FOI from A to Z, including some of the more useful local records and examples of stories that originated from them. The site also includes a "Red Flags" list of warning signs of restricted access.
Student Press Law Center


The non-profit center based in Arlington, Va., is the premier resource for college and high school journalists on legal issues regarding student publications. The center's Web site includes a resources page with frequently asked questions about press law, details on how to obtain legal help on press problems, guides to legal research, and resources of interest to student media advisers and educators. The page also includes links to news stories about student publication issues from prior restraint and censorship to records and meetings access. A quarterly report link includes more news of interest regarding student publications.
Sample Florida public records request letter


This sample is offered on the Brechner Web site. In Florida, you do not have to put your request for public records in writing. However, a written request puts you on record as requesting the records from the agency, plus it could aid those who are trying to find your information, particularly if the request is extensive.
Sample federal public records request letter


Just fill in the blanks with this FOI-request letter generator provided by the Committee for Freedom of the Press and the Web page will create a letter tailored to your request, although you have to send it yourself to the agency. Requesting information from federal government agencies is likely to be far more cumbersome and time-consuming than using Florida's public records laws.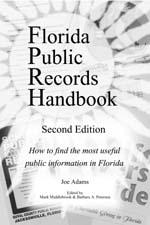 Save money,
save time ...
find answers!



With the new second edition of The Florida Public Records Handbook, the ultimate guide to finding public information in the Sunshine State.

Research it yourself at the courthouse, city hall, state agencies and online! Discover the records to help you find people, research property, check out doctors and nursing homes, monitor government, do your own background checks, scope the competition and much more!