• Home
• Welcome
• About Joe
• Joe's Hit Records
• Florida FOI news
• Seminars
• Handbook Orders
• Handbook Updates
• For Professors
• 100 Answers
• Resources
• Tips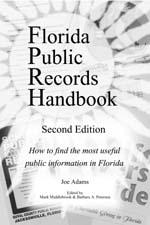 The Florida Public Records Handbook by Joe Adams "details everything you always wanted to know about public records in Florida but didn't know who to ask."
-- The Associated Press
Discover public records power!
Save money, save time and find answers with the second edition of The Florida Public Records Handbook, the ultimate guide to finding useful public information in Florida. See how easy it is to:
Locate out-of-touch friends and relatives.

Determine property ownership, values and sales.

Discover the track record of child care centers, nursing homes, doctors, lawyers, contractors and other licensed professionals and facilities.

Learn if sexual predators and offenders live near you.

Check criminal histories and driving records of school bus drivers, potential employees, business associates and others in Florida.

Monitor how government spends your tax dollars.

Track development of new homes, businesses and roads.

Find public school test scores, drop out rates and teacher experience levels.

Investigate charities before you give.

Use the Internet to find answers quickly on your own.

Learn how to make Florida's public records laws work for you.

Joe spent more than a decade researching these and many other topics that can help Floridians make better decisions about their lives. For 100 more answers on what the handbook offers, click here now.
Whether you are a parent, business person, lawyer, journalist, civic activist or just someone who enjoys being informed, you will refer to this book again and again.
"Sam Spade, move over! Here comes a well-researched, low-tech tool that can revolutionize the search for public (and not quite so public) documents."
-- South Florida Business Journal
"Joe Adams is an unusual kind of journalist. He spent 10 years researching and writing a book that hard-core access junkies wish was available in every state. It's a records handbook unlike any other!"
-- Kyle Neiderpruem,
past president, national Society of Professional Journalists
---
The Florida Public Records Handbook

(2nd edition)

By Joe Adams

Edited by Mark Middlebrook & Barbara A. Petersen
---
Complete and return to:
First Amendment Foundation
336 East College Avenue, Suite 101
Tallahassee, Florida 32301
800-337-3518
850-222-3518
www.floridafaf.org
$26.82 per copy ($24.95 plus $1.87 in state sales tax)
(2005 Sunshine Manual with The Florida Public RecordsHandbook: $34.95)
ALL ORDERS MUST BE PREPAID
Please fill in the form below and print out page
(For details on how to order using your Visa or MasterCard, call the foundation.
---
---
Make check payable to the First Amendment Foundation
Federal I.D. #59-2449379