• Home
• Welcome
• About Joe
• Joe's Hit Records
• Florida FOI news
• Seminars
• Handbook Orders
• Handbook Updates
• For Professors
• 100 Answers
• Resources
• Tips


Handbook changes and updates

Dig The Florida Public Records Handbook?: Then you'll love iDigAnswers About My Date! ...


NEW!: Check out The Florida Sunshine Review, the latest news on Florida public records/meetings and FOI issues!

Florida's public records landscape changes constantly. Check here for developments about material in the second edition of the Florida Public Records Handbook. Here are some changes of note:
Concealed weapons licensing files (Page 93) – The Florida Legislature in 2006 exempted these records from public scrutiny. Statistical data that does not reveal the names of license holders should be available, however. That would include the number of license holders by county and the state, along with the number of disciplinary actions taken against license holders.
Criminal background checks (Page 101) – The cost to run a criminal background check from the Florida Department of Law Enforcement has increased from $15 to $23.
Motor vehicle registration and title history records (Page 290) – The state Legislature, to comply with the federal Driver Protection Act, now prohibits the release of personal details to the general public from driver licenses and vehicle registration records unless someone has opted to have that information made public, which is very rare. The same restrictions to obtaining personal information also apply to boat registration and title records (Page 290) and mobile home title and registration records (Page 290). However, it's important to know that you can still obtain driver history information on Florida drivers from the Florida Department of Highway Safety and Motor Vehicles in Tallahassee. The catch: You must have a person's name, address or date of birth to help the department find the person you want, unless the person has a very unusual last name. The new telephone number for the agency's public information office is (850) 617-3102.
Miscellaneous: The Department of Education's press office number is now (850) 245-0413.
For more on what lawmakers have done regarding Florida's open records and meetings laws, visit the First Amendment Foundation Web site and the "Legislative Reports" link. Foundation President Barbara Petersen, co-editor of the handbook, is the state's leading watchdog on freedom of information issues and posts excellent reports on the regular and special sessions. See my resources list on this Web site for other useful sources of information about open records and meetings.
Please alert me at joe@idiganswers.com about anything that should be part of it or posted on this page in general.
Thanks for visiting, and please check back soon for the latest updates.
– Joe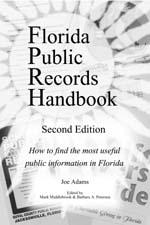 Save money,
save time ...
find answers!



With the new second edition of The Florida Public Records Handbook, the ultimate guide to finding public information in the Sunshine State.

Research it yourself at the courthouse, city hall, state agencies and online! Discover the records to help you find people, research property, check out doctors and nursing homes, monitor government, do your own background checks, scope the competition and much more!